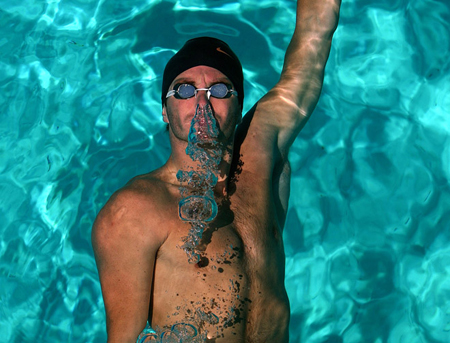 INTERNATIONAL ACHIEVEMENTS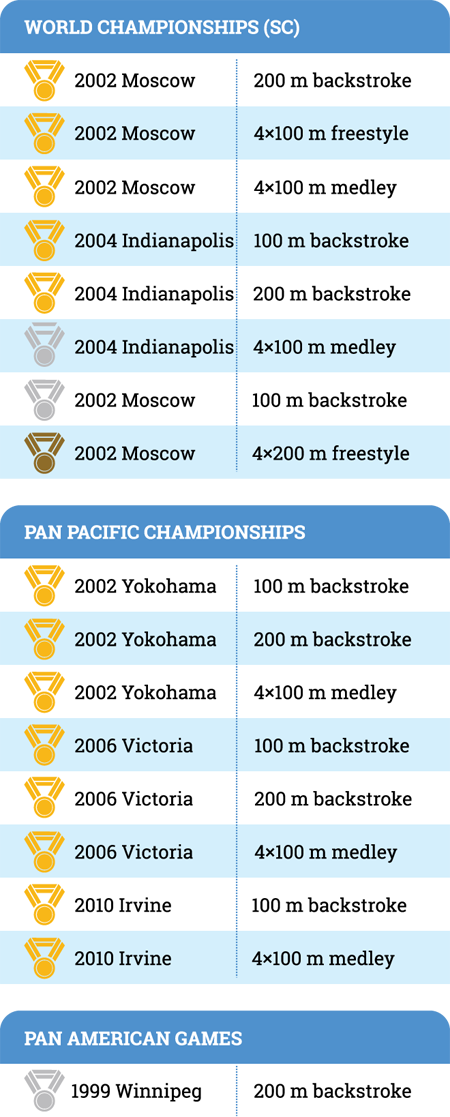 A native of Orange County, I know the roads far and wide that lead to all the pools.The impact the culture of swimming in Orange County, and Southern California in general, had on me as a youth reaches not only to values and ideals learned, but to the myriad incredible people that instilled and perpetuated those ideals along the way.  In what swimming encompassed, I would come to find a community and purpose that to this day exerts an unmistakable influence on the way I live my life.  In turn, I feel I cannot help but reciprocate, if not in some small measure, the gifts and opportunities this community instilled in me.  If I have my own things to pass on, I feel it necessary to acknowledge that those are only there through the foundation that those I will continue to look up to built.
My first swim team was the YMCA in Costa Mesa just off the Back Bay. Stacy Zapolski, a Pepperdine Swimming grad, taught me how to flip turn properly; my Dad taught me the best he could. Hayley, my sister, and I were frequently baby-sat by Stacy, and a relationship grew between her and my family that exists to this day.  There, my mother also met my stepfather, the man who would help raise Hayley and me with his two kids, Erin and Greg.  From the Y I went to Summer League in Corona del Mar for a couple of wonderful years, all the while playing other sports, loving Baseball and schoolyard football.  I started playing water polo at the age of eight at Corona del Mar under a staple of local aquatic sports, Ted Bandaruk (he taught my mother to swim at OCC).
At ten, I entered Junior Lifeguards in Newport Beach.  I would be remiss to overlook these impactful four years of my life.  It was there that I learned to love and respect the water in ways that would influence a swimming career that would last nearly two decades. It was around the time I began JG's that I decided to make the move to Irvine's Novaquatics and was coached under Brian Pajer, a 25 year old breaststroker aiming for an Olympic birth of his own at the time, and who now coaches another local Club team.  I would stay at Nova through high school, eventually training with Dave Salo, who now coaches at USC.  At Nova, we developed a great culture that continues to perpetuate itself to this day as evidenced by a few of those, by no mere coincidence, involved with Evolution.
It was at Nova, at around the age of 12, that I hit my stride. Funny that it should be so young, but I was lucky to find something I remember being so interested in while in a culture that promoted and helped foster it.  I would sit at home with the Southern California record book and study it.  Those were my goals, even if they were quite unattainable at times.  I learned where the limits were and what those that came before me laid as groundwork to build upon.  My influences from around the age of 13 typically consisted of the outliers; the Australians, Kieren Perkins and Dan Kowalski were both admired because of the way they pushed the limits in distance events, and I was not a distance swimmer like that.
Being in Southern California proved a positive advantage as many great swimmers were so close by.  Brad Bridgewater, the 1996 gold medalist in the 200 back and Lenny Krayzelburg, who would go on to sweep the backstroke events in the 2000 Olympics, both swam at USC.  Bridgewater even swam at NOVA for a brief stint with me. Other local swimmers from Mission Viejo, Bart Kizierowski and Bart Sikora, a backstroke specialist, would make an impression on me.  My own team had a plethora of talent, as did the rest of the region, and no shortage of backstroke specialist to not only look up to, but to reeve.
Under the tutelage of Salo, I would train for nearly every event, from the 200 to the mile, and aim to compete at a high level in them all.  My first Junior Nationals was qualified for when I was 13, and I would go on to make Senior Nationals at the Juniors when I was 14.  My first National Team was qualified for at my first Seniors when I was 15, and I was off to Winnipeg, Canada.  During this time, I swam for my high school, Newport Harbor, and returned a bit to the friendships I had growing up with Junior Lifeguards by those who both played Water Polo and swam.
Through this progression, I had a hopeful goal to qualify for the 2000 Olympic Games that truly started when I entered the senior group of NOVA under Salo.  Though my improvement was quick, it was steady, and by the time I turned 17, I had the second fastest time in the USA going into Olympic Trials.  I would go on to qualify for, and win a silver medal, in the 200 backstroke at the Sydney Games at the age of 17.  This experience would prove invaluable, as I would try and soak up everything I could, being told by many not to take it for granted.
I did not.  And I would leave that Olympics with new goals, namely to improve and see how far I could take it.  In 2002 I broke my first world record in the 200 backstroke.  Shortly thereafter I attended the University of Texas where I would remain for the rest of my career.  I would go on to swim in two more Olympic Games, 2004 and 2008, winning three gold medals in 2004 and two gold's and one silver in 2008.  My career on the US National Team lasted until 2010, where my last swim meet was an international one, the Pan Pacific Games, in the Irvine pool I grew up in; few things in my career made me feel so lucky.
The crux of my relationship with swimming feels to have been and come from Southern California.  It is a special place for this sport.  And if I can express the very personal relationship I have with the water, like so many others in this region, then I feel I will have given back to something that has given me so much. I do not remember what it was like not to know how to swim; it was one of the first things I did.  I eventually made it my own.  I can think of few better gifts than the gift of being comfortable in the water; that's where it all starts.
Aaron Peirsol